AGS Conference Goes Virtual
July 26, August 2, August 9

After careful deliberation, the AGS Board of Directors made the difficult decision to shift the AGS Conference to a virtual platform. While we are disappointed that we will not have the opportunity to meet in person this year, we are excited to still be able to disseminate industry information to the AGS membership via a virtual platform.
The conference schedule has been modified from a three consecutive day event to an event that spans three consecutive Mondays. The schedule will be as follows (all times listed are pacific time):
July 26th - Fundamentals Training (Full Day)
August 2nd - Focused Training (8 AM - 12 PM)
August 9th - Lessons Learned/Hot Topics (8 AM - 12 PM)
Registration Fees - Early Bird Deadline July 9th

Full Conference (All 3 Days) $395
Fundamentals Only (July 26) $295
Focused Training Only (Aug. 2) $100
Hot Topics Only (Aug. 9) $100

Conference sessions will be held via Zoom Webinar platform. Attendees will have an opportunity to interact with speakers and ask questions. After July 9th, price increases by $50.
Click here to download PDF registration form
Sponsorship Opportunites
Each year, the support received from our Conference sponsors provides the funding AGS needs to continue serving the glovebox/containment industry. In return, AGS offers sponsors an opportunity to provide product/service information to the industry. This relationship is important, and we are making it a priority to develop a package that will provided meaningful marketing opportunties.
Click here to download sponsorship information
Call for Presentations
We invite you to share your expertise with the glovebox/containment industry. Please use the link below to submit a proposal for presentation (either technical session or poster session)
Click here to submit a presentation or poster for consideration
Click on the image below to download program information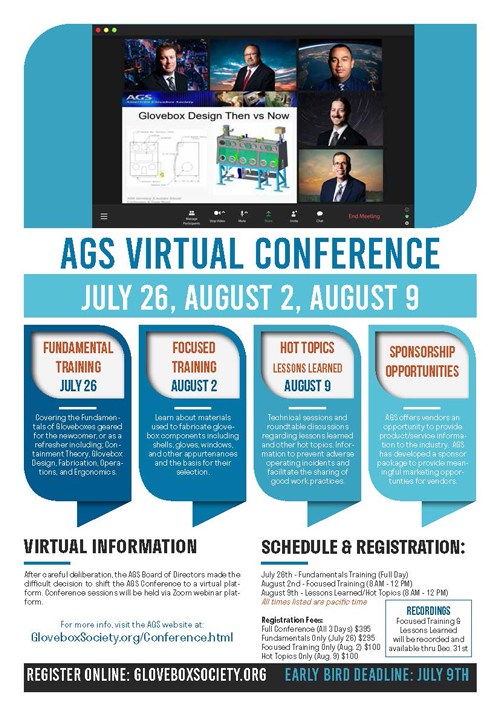 Virtual Conference Q&A
Virtual Conference - How Does it Work?
Conference sessions will be held via Zoom webinar platform. Prior to the conference, you will receive an email providing you access to the conference app. The conference app can be accessed via a computer or downloaded as an app on your phone (or both!). The conference app is where the virtual conference will be organized. In the app, you will find the conference agenda and the Zoom registration links for each session. Additionally, you will find a Chat Room, Directory of Sponsors, Attendee List, and more! The app will be your one-stop shop to access the virtual conference. As we get closer to the event, we will release short video tutorials with easy step-by-step instructions.
Will I be Allowed to Ask Questions?
Absolutely! We encourage you to interact with the speaker during the live presentations. A Q&A panel will be used to ask questions throughout the presentation. Each session will have a moderator and their job is to watch for questions.
Will the Sessions be Recorded?
Yes, with the exception of the Glovebox Fundamentals Workshop, the conference sessions will be recorded. Whatever sessions you miss during the conference, you can view the recording at your convenience. Recordings will be made available on a complimentary basis to all conference attendees through December 31, 2021. 
What About Continuing Education?
The virtual system tracks your time in session. If you require a certificate of attendance, email
ags@gloveboxsociety.org
and we would be happy to create your certificate. We are unable to monitor time reviewing recordings so verification cannot be provided for watching recordings.